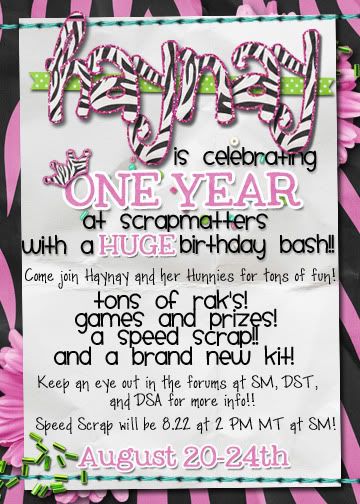 And to help Haynay Celebrate I'm hosting a game right here! It's called
Pin the Comment on the LO!
OK, here we go! Are you ready to have some fun! I hope so, because I have had lots creating it. Here's how to play:
1. Read a clue (below).
2. Browse through
Haynay's LO Gallery at ScrapMatters
(Hint: the LO's will be within the first 4 pages if you have the forum set to show 90 images).
3. Identify the correct LO per the clue.
4. Leave a comment - make sure to include that you've been pinned!
You will get
1 chance
per correct "Pinned LO" with a maximum of 5 chances (5 total LO's to pin) entered into a drawing for a $5.50 GC to Haynay's Store!
How fun is that? Well, are you ready???
Here are the clues!
1. Splotches of paint & a bundle of crayons surrounding 4 generations - give them a hand!
2. Outdoors the sun is shining on a tree & beads on a string all the while dinner is being made.
3. Pine leaves, buttons w/ bows & ornaments corner a Santa hat wearing toddler.
4. A bright smile says it all, with a background and multicolored title are totally cheddar!
5. Stripes & polka dots behind goofy thrill seekers on this up & down ride!
Go get 'em!!
To see what else Haynay & the other Hunnies have planned go visit
Haynay's Blog
.